About Us
Behind every great brand is a team of wildly passionate creative experts.
Want a team that's as passionate about your business as you?
We're a team of innovative, fearless creative types, with the drive and desire to push boundaries and explore the unexplored. We live and breathe branding and design. It makes us ridiculously happy to help our clients discover the best and boldest ways to make their brand shine.
We help your brand kick some serious ROI

Drive
We are fully dedicated to you and your brand. In fact, think of us as an extension of your team. That means we give it everything we've got and more to create something that you can be proud of—and that your customer can relate to.

Courage
This work isn't for wallflowers. It takes a certain audacity to break through the standard branding tactics and find the right way to share your story. We break rules, we make up rules and we do it all with absolute confidence.

Savvy
Every project we take on is approached from multiple angles, driven by strategy and informed by ingenuity. Our team is a combination of expert designers, writers, developers and strategists—all with an insatiable curiosity for this industry.
Think Baseline Leadership
Megan Mullaney
President
Fearless leader with mad organizational skills
Megan has been making things look fabulous as a profession for more than 14 years. She loves approaching creative challenges from unexpected angles and exploring new and unique ways to visually communicate brands. Her love of design doesn't stop outside of the Think Baseline office; she has served on the Board for the American Advertising Federation of Greater Frederick for 10 years, ultimately serving as President before her retirement.
Megan has built a successful business by partnering with like-minded creatives and providing her clients with smart, stunning work. She approaches design with an elegant and functional aesthetic, using clean lines and beautiful typography.
Get to Know Megan
Secret Identity:
I'm a Top Chef in my own head—I love baking and cooking.
Unhealthy Obsession:
Peanut butter and wine. Not necessarily together.
Unexpected Factoid:
I wanted to be an FBI agent when I first started college.
Cocktail of Choice:
Vodka, seltzer, lime.
Personal Quote:
"Make today so awesome, yesterday gets jealous."
First Design Memory:
The Hungry Caterpillar was my favorite book as a child, and I loved the illustrations.
Off-hours Fun:
Anything involving outdoors, boating or the beach, and hanging out with the dog.
When Inspiration Strikes:
I get my best ideas at the weirdest times…in the shower, at 3:00 a.m., riding on the escalator. My creative brain is on 24/7.
Random Hobbies:
Fishing and riding jet skis.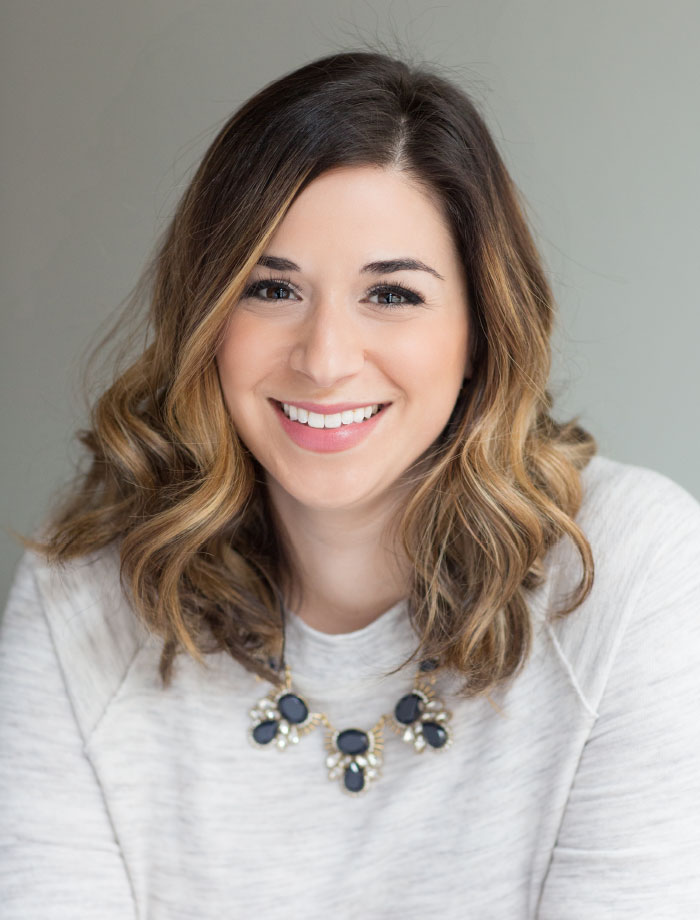 Briana McPherson
Creative Director
Multi-Tasking Master and Problem-Solving Pro
Briana's artistic background is strongly rooted in drawing and painting—she has been incorporating those talents into her designs for more than 10 years. Her design aesthetic integrates illustration or hand-drawn elements, giving projects a powerful and unique dimension. She's won local and national awards for her gorgeous work, and has been featured in the LogoLounge Master Library series and Graphic Design USA.
Growing up, Briana was surrounded by artistic influence and had a deep appreciation for it at a young age; her mom was an art teacher and her dad is a graphic designer. She has fond memories of watching him handset type and create illustrations without the use of a computer.
Get to Know Briana
Superpower:
I'm an awesome juggler of many things—being a super-mom, working, home life, friends, cats. I don't actually juggle cats, though.
Unhealthy Obsession:
Cheese, cheese, CHEESE. My nickname in college was actually Cheese, and not just because I went by Bri.
Unexpected Factoid:
I was a major tomboy early in life. I loved to fish, play in mud, get in trouble with my brothers and watch Teenage Mutant Ninja Turtles. I once wrote a letter to the editor of Boy's Life and it got published!
Cocktail of Choice:
Vodka soda with lime. Or a cold craft beer. Or bourbon anything.
Personal Quote:
"Creative minds are rarely tidy."
First Design Memory:
Watching my dad create bold, typographic posters by hand.
Off-hours Creativity:
Getting lost in imaginary worlds with my daughter Lena. Seeing the world through her eyes is incredibly inspirational.
When Inspiration Strikes:
I get my best ideas when I collaborate with Megan and Alyssa. We put our creative minds together and bounce ideas around and end up with fantastic concepts. I also get great ideas in the middle of the night.
Random Hobbies:
Tea parties with my daughter and her stuffed animal posse. Making jewelry and painting whimsical watercolors. Party planning. Doodling. Attempting to cook.
Deb Hartranft
Graphic Designer
Experimental Designer With A Curiosity For Doing Things Differently
Deb is a recent graduate of Susquehanna University, where she studied design and graduated with honors. Her work in school earned her two student awards from AAF Greater Frederick. She thrives on applying her creative mind to solve client challenges, and sees design as an ideal blend of artistic and practical.
Deb enjoys each element utilized within the connective framework of a design project. She gets a lot of job satisfaction seeing each piece come together to form the creative whole, whether in a rebranding, website, or other project.
Get to Know Deb
Superpower:
Seeing the glass half full.
Unhealthy Obsession:
Buying and nurturing plants. They're my babies.
Unexpected Factoid:
My grandmother was raised in an Amish community, so I am an Amish descendant, and I'm very proud of my Pennsylvania Dutch heritage.
Cocktail of Choice:
Gin and tonic or white wine.
Personal Quote:
"Kindness counts."
First Design Memory:
I taught myself Photoshop to design graphics for message board signatures, which led to me designing posters and magazines for friends.
Off-hours Fun:
Cooking is a form of stress relief for me, as well as a creative outlet. Plus, I love to eat as much as I love to cook.
When Inspiration Strikes:
I love looking at other design work. There are so many ingenious creatives out there, and the work inspires me to push myself in my own design.
Random Hobbies:
Reading, Pinteresting, Daydreaming
Awards & Honors
2017 Patricia Martin Crystal Prism Service Award

Megan Mullaney, Recipient

2017 Silver ADDY Award

Humane Society of the United States, Humane Economy Book Cover

2017 Silver ADDY Award

Baseline Technologies Website

2016 Gold Addy Award

Brewer's Alley Oh My Gourd! Spiced Ale, Beer Packaging

2016 Silver Addy Award

Brewer's Alley India Pale Ale, Beer Packaging

2016 Silver Addy Award

Brewer's Alley Brickhouse Oatmeal Stout, Beer Packaging

2016 Silver Addy Award

Brewer's Alley Beer Packaging Illustration series

2016 Silver Addy Award

Sass Well Logo & Brand Identity

2015 Best of show Award

Norge Dental Center, Douglas Lost Tooth Kit

2015 Gold Addy Award

IEC Conference Brand Campaign

2015 Gold Addy Award

Norge Dental Center, Douglas Lost Tooth Kit

2015 Silver Addy Award

IEC 2014 Conference Save The Date

2015 Silver Addy Award

Good Neighbor Dental Brand Campaign

2015 Silver Addy Award

Bare Bites Logo Family

2014 Judge's award

Norge Dental Center, Douglas Campaign

2014 Gold Addy Award

Norge Dental Center, Douglas Campaign

2014 Gold Addy Award

Norge Dental Center, Douglas Mailer

2014 Gold Addy Award

Brewer's Alley Czech Mate Pilsner Packaging

2014 Silver Addy Award

Mary Kate McKenna Photography Website

2014 Silver Addy Award

Smooch Brand Campaign

2013 Gold Addy Award

IEC 2013 Conference Save The Date

2013 Silver Addy Award

Norge Dental Center Website

2013 Silver Addy Award

Bare Bites Packaging Campaign

2013 Silver Addy Award

Brewer's Alley Opera House Pale Ale Packaging

2012 Silver ADDY Award, district 2

Freez King Website

2012 Best of Show Award

Freez King Website

2012 Judge's award

Freez King Website

2012 Judge's award

Freez King Brand Identity

2012 Judge's Award

Brewer's Alley Wedding Alt Packaging

2012 Gold Addy Award

Freez King Website

2012 Gold Addy Award

Freez King Brand Identity

2012 Gold Addy Award

Brewer's Alley Wedding Alt Packaging

2012 Silver Addy Award

Freez King Exterior Sign

2012 Silver Addy Award

Smooch! Studio Website

2011 Judge's Award

Garden at 147 Interior Sign

2011 Gold Addy Award

Garden at 147 Logo

2011 Silver Addy Award

Mental Health Assoc. Capital Campaign Brochure

2011 Silver Addy Award

Garden at 147 Interior Sign